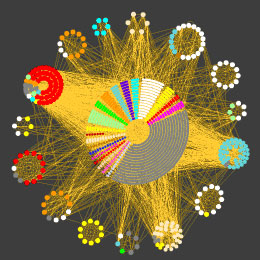 Osprey: Network Visualization System
Osprey is a software platform for the visualization of complex biological interaction networks. Osprey builds data-rich graphical representations from Gene Ontology (GO) annotated interaction data maintained by the BioGRID.
Osprey is developed by the TyersLab and is a part of the BioGRID family of software. It utilizes both MySQL and Java to operate and is compatible with Windows, Linux, and Apple operating systems.
These works were published in Breitkreutz, BJ., Stark, C., Tyers M. "Osprey: A Network Visualization System." Genome Biology 2003 4(3):R22 [Genome Biology] [PDF] [PubMed] and supported by the National Institutes of Health, Canadian Institutes of Health Research, and Genome Canada.
For help and support, you can find contact details here.
NEW USER WARNING!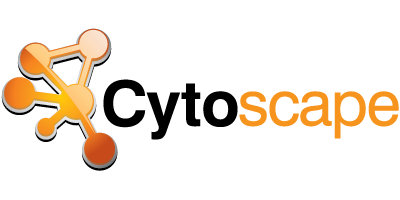 The standalone Osprey Network Visualization System desktop application is no longer in active development and will recieve no additional improvements. It has been replaced with an embedded viewer available directly via the BioGRID (example, example, example) [powered by CytoscapeJS]. As such, the desktop versions listed below may not be compatible with modern operating system releases.
We highly recommend that users looking for a desktop network visualization application switch to Cytoscape Desktop, which is an open source platform for visualization of complex networks. Cytoscape is in constant development with new features being released regularly and a large community of active plugin developers.
Downloads (Zip Archive, No Installer Required)
For users who still want to use Osprey, we recommend using one of the following archives. These downloads contain the Osprey application WITHOUT an installer. These versions are likely to work better than the Legacy downloads listed below. Simply install the Java Runtime Environment on your computer and extract one of the copies of Osprey you download below from the containing zip file. Then, you simply need to execute the osprey.jar file contained within the zip file, on your computer and it should launch via the Java Runtime Environment you setup previously. These versions should be compatible with most operating systems, but unfortunately, we cannot guarantee this will work, due to the legacy nature of this project.
Osprey Network Visualization System
Legacy Downloads (Uses Deprecated Installer)
Click to download the version that best fits your operating system specifications.
Warning: These versions utilize an installer that is no longer compatible with many modern operating systems. Installation may not complete successfully.
Osprey Network Visualization System v. 1.2.0
Osprey Network Visualization System v. 1.0.1
Due to some problems with operating system changes, users may have more success using an older release of Osprey
Osprey Documentation
Click to view the documentation in the format of your choice...
Osprey User Manual
Osprey Legacy Install Procedure ( Windows )
Osprey Legacy Install Procedure ( Linux )
Osprey Legacy Install Procedure ( Apple OS X )
Osprey Tutorials
Click to view the tutorial in the format of your choice...
Adding Genes Tutorial
Adding Interactions Tutorial
Changing Databases Tutorial